---
Page content
Inspiring communication with coffee
June 5, 2020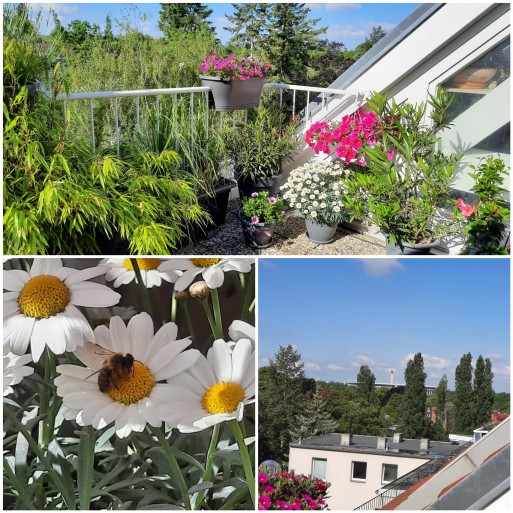 A short neighbourly greeting from the balcony next door, which was also spontaneously converted into a workplace and where the place with the strongest WiFi signal is still being sounded out, as well as a clear view of tree tops, roofs and a quiet Olympia Stadion Berlin. Filling up concentration and inspiration for the next CMS stories is a very sustainable success.
With buzzing and dancing to the next CMS story
There are now many recommendations and tips for optimal working and work-life balance in the home office. However, the current "home office" has little to do with the home office as we know it today. The current home office is a pandemic office, and with the various individual additional challenges, it is also different for me, Mandy Gutzeit, than the tried and tested home office day.
The office, known as a place of collegial social encounters, was unceremoniously swapped for a place of family and natural encounters. The often fast-pressed Café Crema from the fully automatic coffee machine was exchanged for considerably fewer cups of coffee freshly brewed at Bialetti and is now enjoyed outdoors on the terrace instead of at the desk or bar table. Instead of traffic noise on Messedamm, the rustling of leaves, the twittering of birds and the buzzing of bees and thick bumblebees as they fortify themselves at the colourful flowers dominate the background noise.
For the first time, the postmen and parcel carriers as well as the building cleaners who maintain the staircase and gardens are given a face. Automatically, a glance is taken at the cleaning products and equipment used and the Virtual Market Place of CMS Berlin is called up in the mind to check whether cleaning products and equipment are in the exhibition portfolio or could still be acquired if necessary.
Many things happen more consciously. Unfortunately, every day I become more aware of how urgently my windows need cleaning and that I have put off spring cleaning for too long. So it's time to visit the online catalogueof CMS again to find inspiration from the cleaning professionals for home use.