---
Page content
COMMUNICATION IS ESSENTIAL
Excitement is building, preparations are in full swing, and we can't wait to welcome you to our international cleaning trade show!
Mark your calendar, bookmark it and share the exciting news with your friends, colleagues and partners with a SHARE PIC via social media channels! CMS Berlin 2023 is where the entire cleaning industry gathers to shape the future of the cleaning industry.
Discover the latest innovations and technologies from leading companies.
Inspiring presentations and discussions from experts who are driving the industry forward.
Unparalleled networking opportunities to make connections and form collaborations.
And that's just the beginning! We've prepared an exciting Social Media Kit for you. Our specially designed sharepics can be customized to announce and spread the word about your participation at CMS Berlin 2023!
Stay tuned to share the anticipation on social media platforms and get in the mood together for the future of the cleaning industry! See you in September!
#CMS23 #CMSBerlin #MesseBerlin
To make the most efficient use of the strength of our network, we want to make the first step into 'communicating together' easy for you with this Social Media Kit.
The templates present you different share pics to CMS Berlin to support your social media communication. Discover different motifs that you can customize. For example, you can insert your portrait photo or your company's logo to share your presence at CMS Berlin on LinkedIn or other channels. #CMS23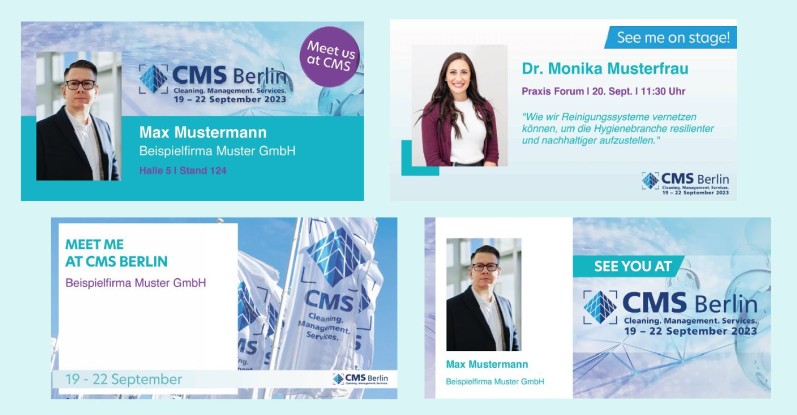 Step 1: First of all, take a look at the short guide (PDF, 6.7 MB)
Step 2: Make a choice from the following four motifs:
*The subdivision is only suggestions. Of course, you are free to use the share pics.
Step 3: Personalize your selection
Step 4: Share your share pic on the social media platforms. Also feel free to use the hashtags #CMS23 #MesseBerlin #CMSBerlin