---
Page content
Rekord-breakingly clean
September 25, 2019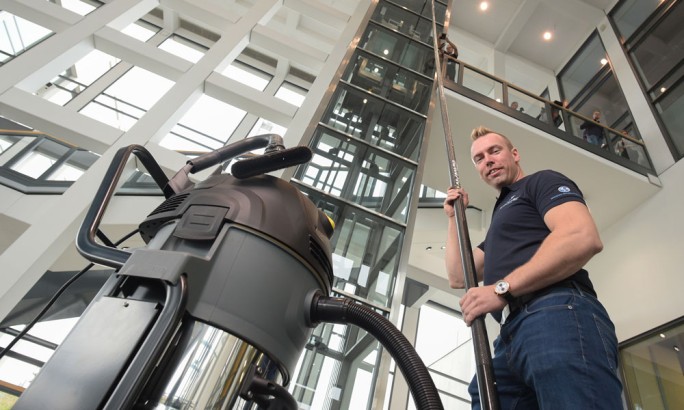 They wanted to go especially high up and set the world record in "High Level Vacuuming". Vacuuming surfaces at great heights is a challenge even for experienced building cleaners. At CMS Berlin 2019, the Swedish company Space Vac showed how cleaning can be done easily and cost-effectively.
Using clip-on tubes made of carbon fibre, they extended the industrial vacuum cleaner in the foyer of Messe Berlin's south entrance to a height of 17.60 metres and demonstrated "High Level Vacuuming" on the top of the lift cabin. In contrast to working with a lifting platform, the cleaning staff can easily move the Space Vac along the surface and also vacuum during production time.
She works on the floor, which reduces the risk of accidents. CMS Berlin was the starting point for Space Vac's sales in Germany. Sales partner in Germany is Joachim Löffler with his company Cotraco.